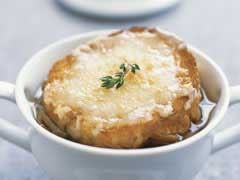 Follow these steps to make healthy onion soup.
Cut four large white onions, not sliced.
Place six ounces of butter in a large saucepan over the fire, and add chopped onion into it.
Stew this very slowly for one hour, stirring frequently to prevent its scorching.
Add salt, pepper, cayenne about one quart of stock, and cook for one hour.
Add one and a half cup of milk to that mixture and stir for few minutes.
Beat four egg yolks with two tablespoons of grated Parmesan cheese.
Add hot soup into this (egg yolk and cheese mixture), beat until it thicken.
You delicious healthy onion soup is ready.
Serving Idea:
Serve onion soup with a slice of toasted French bread.
Share Your Own Onion Soup Recipe With Us.
You can make $$$ if your recipe get selected to published on this blog.